The Saanich Police Department is currently accepting applications for our reserve program
We are actively recruiting for our upcoming Reserve training. Application submission deadline is December 31, 2023.
Saanich Police Application for Reserve Constables
Saanich Police Reserve Constables are uniformed, trained volunteers who participate in non-enforcement community policing and crime prevention activities and accompany police officers in a ride-along capacity.  Depending on the task, Reserve Constables work under the direct supervision of a police officer or the general supervision of the police department. Our Reserve Constables are required to volunteer a minimum of 160 hours per year as well as complete several mandatory training requirements annually.
Candidates must meet the minimum requirements as outlined on the Applicant Minimum Requirements page.
All our Reserves Constables must complete the basic Reserve Constable's training as outlined by the Ministry of Solicitor General's Office.  Training takes approximately four months with classes held 1-2 evenings a week and one weekend day. Candidates study legal issues, crime prevention, traffic, professionalism and ethics, communication tactics, use of force certification, and tactical communication. Training also has a strong team building component.
The two Provincial written exams are administered on classroom studies. The Provincial written exams are conducted by the Justice Institute of BC. The passing score for these examinations is a minimum of 70%.  Applicants must be willing to commit to a minimum of two years volunteer service.
Assessment of honesty, integrity and ethics are an integral part of the selection process and the information you provide throughout the process will be scrutinized closely.  Dishonesty, deceit, or non-disclosure of information can result in your removal from the process. 
The Saanich Police are committed to being an equal opportunity employer as we look for confident applicants that reflect our diverse community that we serve. The reserve selection process will begin six months before the commencement of a training class; however we will accept applications year-round.
More information on the Reserve Constable training program can be obtained by contacting the Reserve Constable Program Director here.
Overview of the Reserve Constable Recruiting Process
Application Package Review

Written Testing (ETHOS)

Peer Panel Interview

Polygraph Test

Background Investigation

Group Physical Testing (POPAT)
Before you fill out the application form please ensure you have all required documents ready to upload.
Apply for the Saanich Police Reserve Constable Program
Please download and fill out these forms. Return them using the form below.
To complete the forms you will need to have Adobe Acrobat or Adobe Acrobat Pro installed on your computer.
If you are successful in your application, you will be invited to the next stage of the recruiting process.
APPLICANTS ARE REQUIRED TO SUBMIT THE FOLLOWING DOCUMENTS
WHEN COMPLETED SEND USING THE UPDATE APPLICATION BUTTON
In addition to the above documentation
Official stamped copies of educational transcripts are required for the highest level of education completed. These documents must be forwarded to the Saanich Police Staff Development Division directly from the school/college/university by mail in a sealed envelope or by email to joinspd@saanichpolice.ca. If transcripts are received in any other manner, they will not be accepted.
ICBC Driving Record.
Doctors note of medical fitness.
Download the "Polygraph Integrity Questionnaire" form below by clicking "download form"
Ensure you have the latest version of Adobe Acrobat installed on your computer, if not please use the link above to install the program.
In your downloads folder locate the file called "PIQ.pdf"
Right click on the file and hover over the option "open with" then from the options presented click "Adobe Acrobat DC"
Wait for the form to open in Adobe Acrobat DC
Fill out the form and save to your computer
Submit the filled "PIQ.pdf" along with your application using the form below.
Download Files to Fill Online Using Adobe Acrobat
Recruit Applicant Questionnaire
Polygraph Integrity Questionnaire
Download Files to Print, Fill and Scan
Application Terms and Conditions Form
(for your reference only)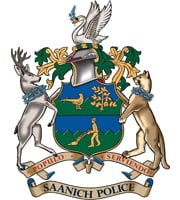 Saanich Police Reserve Constable Application Form