Operational Support Officers
PLEASE NOTE WE ARE NOT ACCEPTING APPLICATIONS FOR OPERATIONAL SUPPORT OFFICERS AT THIS TIME
Saanich Police Application for Operational Support Officers
The Operational Support Officer program will be new to the Saanich Police Department in fall/winter 2021. These Special Constable positions will provide operational support to front line officers. Duties will include: crime scene security, document service and other related low-risk duties.
Before you fill out the application form please ensure you have all required documents ready to upload.
Apply for the Saanich Police Operational Support Officer Program
Please download and fill out these forms. Return them using the form below.
To complete the forms you will need to have Adobe Acrobat or Adobe Acrobat Pro installed on your computer.
If you are successful in your application, you will be invited to the next stage of the recruiting process.
Application packages MUST include all of the following
WHEN COMPLETED SEND USING THE UPDATE APPLICATION BUTTON
IN ADDITION TO THE ABOVE DOCUMENTATION
Official stamped copies of educational transcripts are required for the highest level of education completed. These documents must be forwarded to the Saanich Police Staff Development Division directly from the school/college/university by mail in a sealed envelope or by email. If transcripts are received in any other manner, they will not be accepted.
2. An original signed copy of the Authorization for Release of Information document is required and must be mailed to the Saanich Police Department to:
Saanich Police Department
Recruiting
760 Vernon Ave,
Victoria BC, V8X 2W6
Download the "Polygraph Integrity Questionnaire" form below by clicking "download form"
Ensure you have the latest version of Adobe Acrobat installed on your computer, if not please use the link above to install the program.
In your downloads folder locate the file called "PIQ V5.pdf"
Right click on the file and hover over the option "open with" then from the options presented click "Adobe Acrobat DC"
Wait for the form to open in Adobe Acrobat DC
Fill out the form and save to your computer
Submit the filled "PIQ V5.pdf" along with your application using the form below.
Download Files to Fill Online Using Adobe Acrobat
Recruit Applicant Questionnaire
Polygraph Integrity Questionnaire
Download Files to Print, Fill and Scan
Authorization for Release of Information Form
(for your reference only)
PLEASE NOTE WE ARE NOT ACCEPTING APPLICATIONS FOR OPERATIONAL SUPPORT OFFICERS AT THIS TIME. FORMS WILL BE AVAILABLE BELOW WHEN WE ARE ACCEPTING APPLICATIONS FOR THIS POSITION.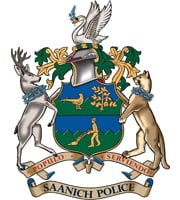 Saanich Police Operational Support Officers Application Form